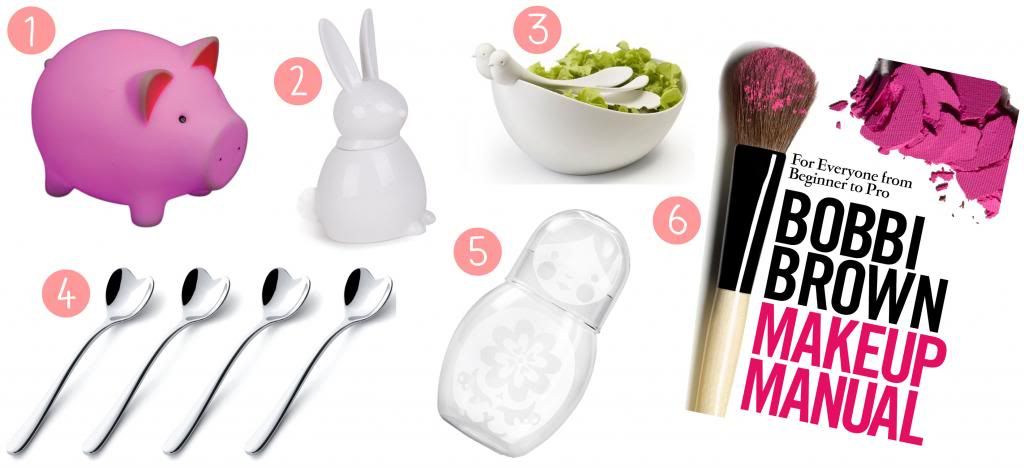 Back again with another
Amazon wishlist
post, I really enjoy making these because there's so many pretty and exciting things on my Amazon wishlist, and I kind of forget about them, and then get to rediscover them, and fall in love all over again!
1 - Piggy Night Light.
I actually included a dotcomgiftshop nightlight in my
first Amazon Wishlist
, but this ones just as adorable so I had to include it too. For starters, it's nice to see a different animal, my mum always loved pigs, we used to have those piggin' ornaments, and other piggy critters about the house, but now it's all minimal and mostly Next homewares. Secondly, I love the fact that it's pink, although I doubt the boyfriend would approve!
2 - Foresta Bunny Cotton Wool Holder.
How adorable is this bunny? He's a little cotton wool holder, and there's a hole in the bottom to give him a cotton wool tail! So amazing, I definitely really want this little guy (or girl).
3 - Qualy Sparrow Salad Bowl With Servers.
If you're a regular reader you're probably aware of my Qualy obsession.. I've wanted this salad bowl for so long, it's just super cute, but there's no way I can justify over £20 for a salad bowl right now!
4 - Alessi Heart Shaped Coffee Spoons.
Again, these spoons are really pretty, but at around £5 per spoon they're extremely pricey! I think this is one for the future wedding list with us being a little bit coffee crazy (we probably have more equipment than Costa..)!
5 - Russian Doll Carafe & Glass.
This is a recent addition to my wishlist, for some reason I really want a pretty carafe, I don't know why. I'm pretty sure you can get other things in this Russian doll too, like measuring cups.
6 - Bobbi Brown Makeup Manual.
I've heard a few people raving about this book, and it says its for beginners as well as Pros, so it's right up my street, I'm awful at makeup sometimes, haha!
Is there anything you're lusting after on this wishlist? What's on your Amazon Wishlist?