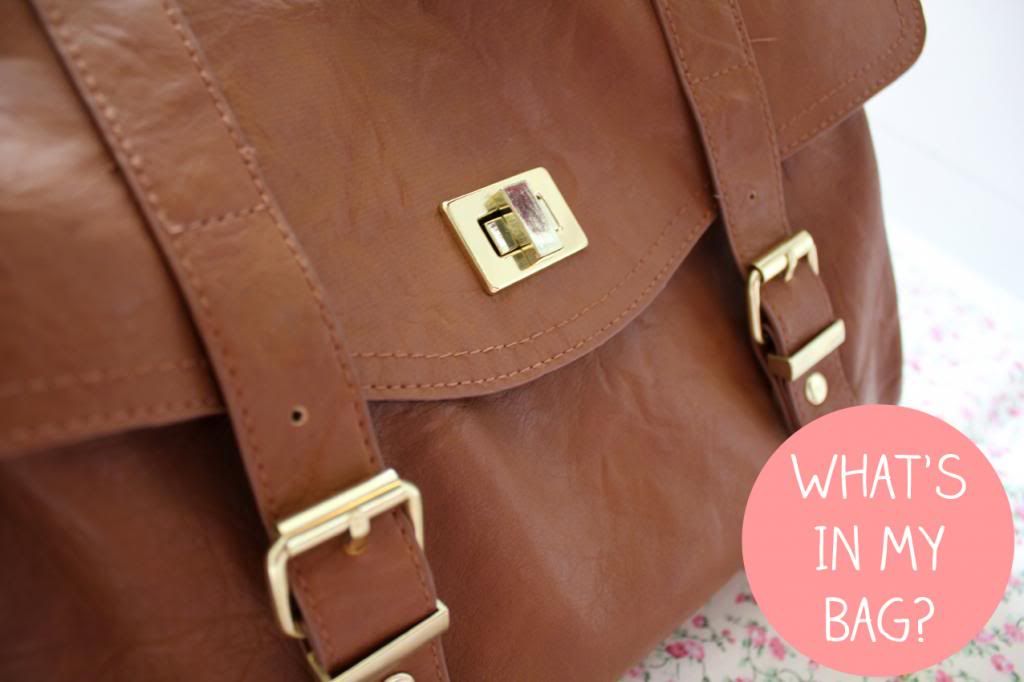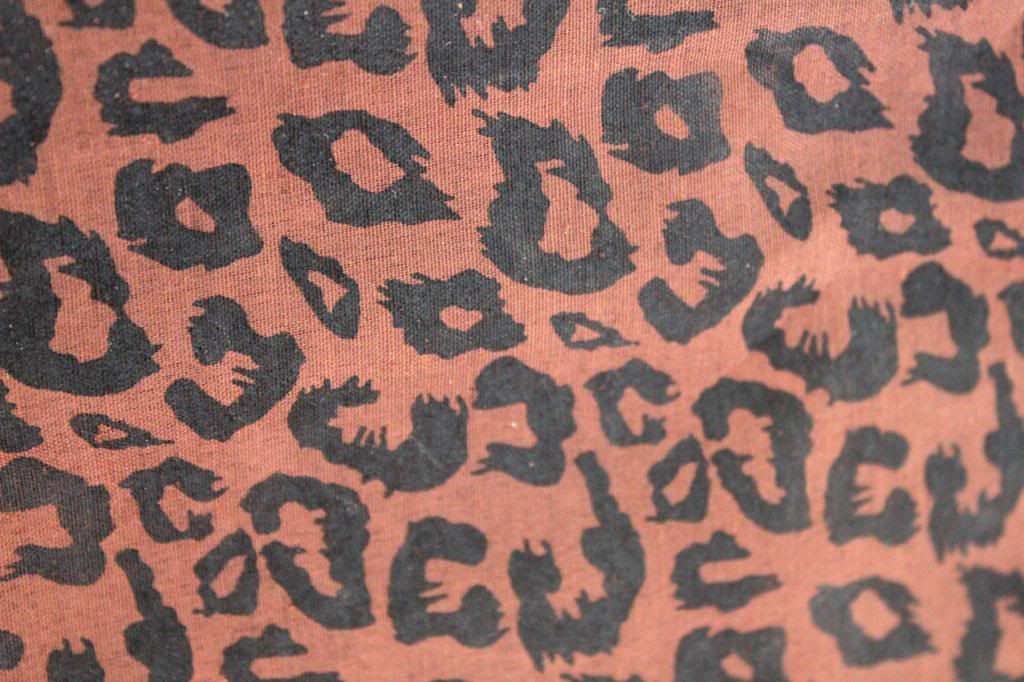 So I've finally got around to doing this post, it's only taken me about a year since I first decided to post one of these! First up I thought I'd talk about my lovely bag from
Matalan*
. I bought this for when I went to
Ladies Day
, it was £12 and available in tan, nude, grey and black, which made it incredibly difficult to just buy one! The material is really soft, and it has a lovely leopard print lining. There's two popper buttons on the front, along with a little twist clasp, and then a top handle and detachable side strap. Inside is the usual phone pocket and zipped pocket on the back too. It's reasonably big, I can fit my ipad inside easily, but it's not too huge that it looks a bit silly. Right, now what's inside? Scroll down to find out more!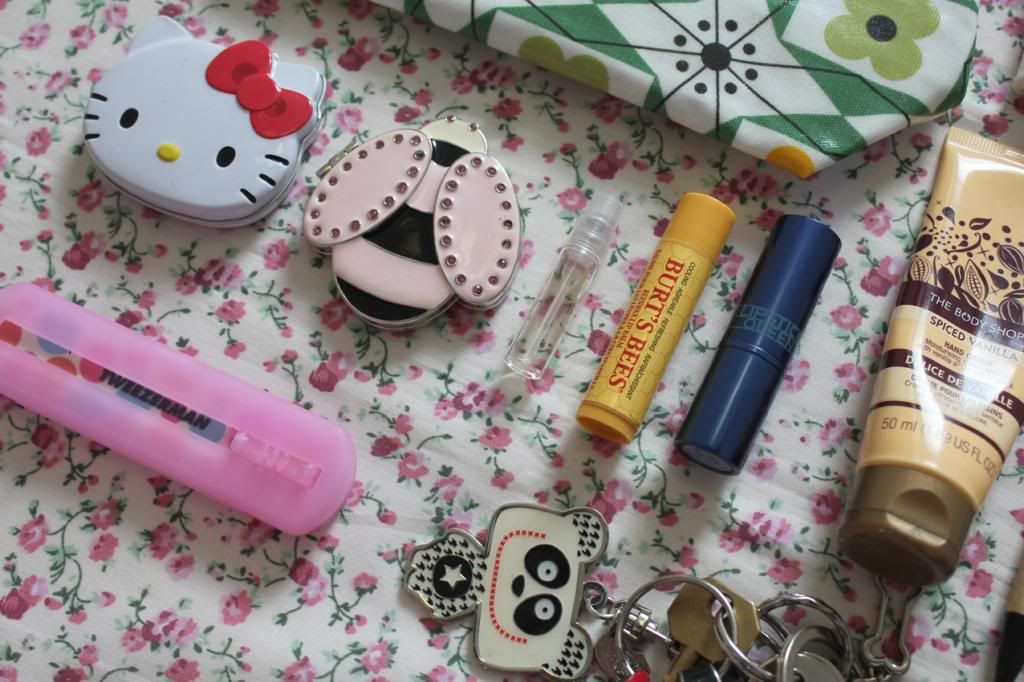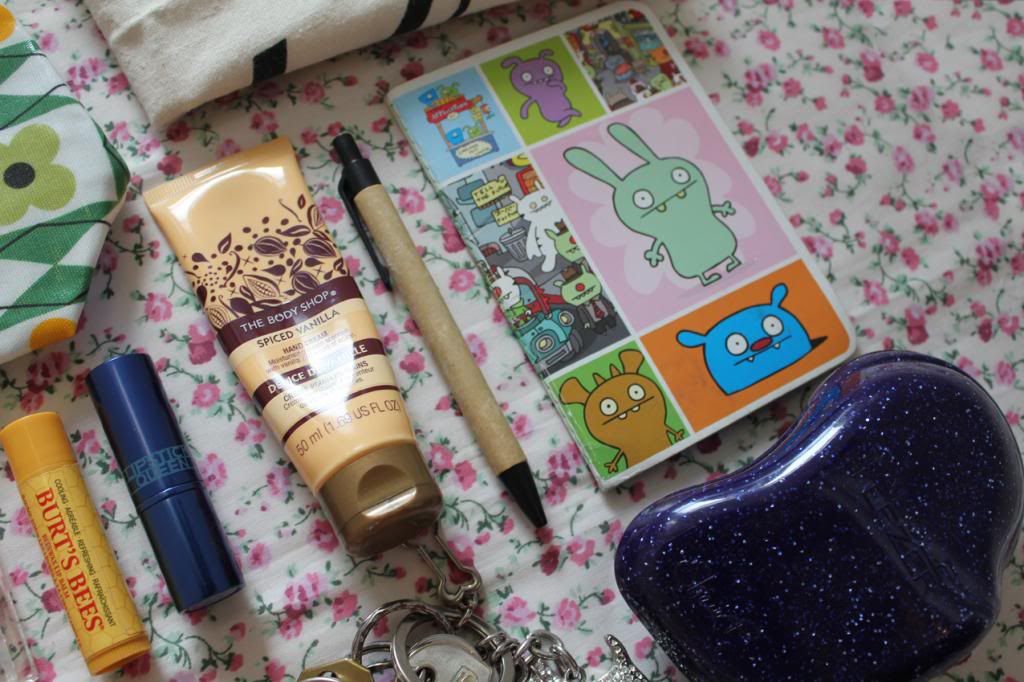 2. I almost always have a tote bag incase I need to grab some shopping. The one that's in currently is from
Motel Rocks
which I received when joining their Street Team. Remember, you can get 20% off at Motel Rocks using the code
danielleyc
.
3. Matching DCGS makeup bag. I don't actually carry makeup around everyday but I use it to keep the items which are underneath it in the photo.
4. The Body Shop Spiced Vanilla hand cream. I think this is one of their Christmas items. I bought it a year ago in Liverpool and it's such a nice cream. Smells gorgeous and really thick.
5. You never know when you might need a pen.
6. Again, you never know when you might need to write something down. I own an incredible amount of little notebooks, this one is a Ugly Dolls one, which
I bought in a set
of 4.
7. Hello Kitty tin you may recognise from
this post
. Now used to keep paracetamol in.
8. A very old Next mirror which a friend bought me for Christmas, this may of been during high school!
9. I like to keep perfume in my bag, usually I'll throw a little sample vial in if I have one, this one is Viktor & Rolf Flowerbomb which is one of my all time favourite scents.
10. Burt's Bees lip balm, this is the original variety that's nice and minty!
11. My favourite lipstick that's incredibly easy to wear, I posted about it
here
.
12. Tweezerman retractable nail file, this was in a goodybag from the FABB event in Leeds.
13. Keys! I have far too many with living in two places, I also have my usb stick and my two favourite key chains, a westie from Next and panda from Paperchase.
I really love these posts so if you've wrote one before then leave me a link in the comments! What do you carry around everyday? What do you think of my 'What's In My Bag'?