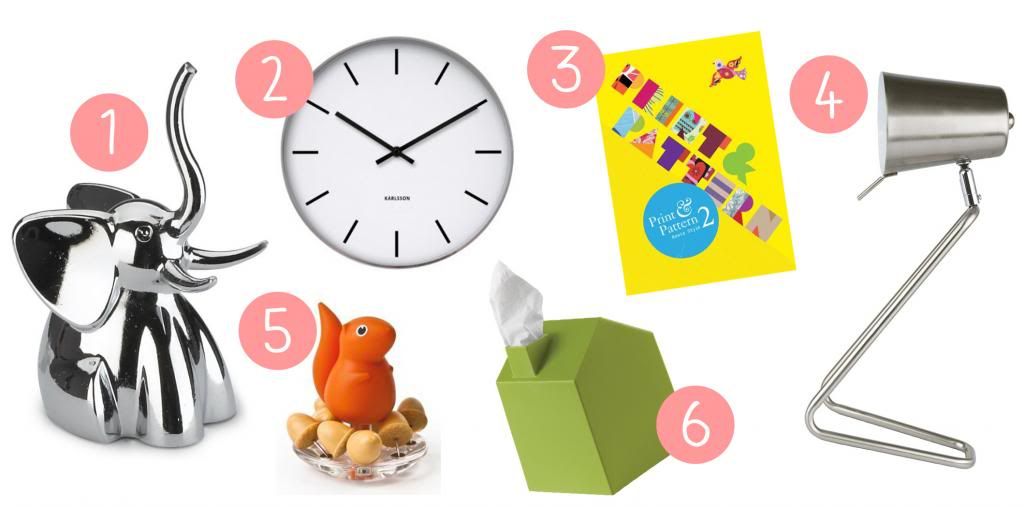 The
last Amazon wishlist
seemed to go down quite well, so I'm back with another! This month is mostly focused on homewares, I just can't get enough of quirky and beautiful things for the home, and I kind of dread getting my own first home because I know exactly where all my money will go!
1 - Umbra Zoola Elephant Ring Holder.
When I was a little girl, elephants and tigers were my ultimate favourite animals. Since then I've always loved anything pretty with elephants. This ring holder is really adorable, and would be the perfect addition to any bedside table.
2 - Karlsson Present Time Station Clock.
Me & the fiancé have a bit of an addiction to Karlsson clocks. They have so many different designs, and they're all so modern and a bit different too. We already have the Karlsson
Pictogram
and
Blue Glass
clocks, but this is more than welcome to join our collection.
3 - Print & Pattern 2.
Print & Pattern is my favourite book for design inspiration, looking at it right now I'd be surprised if it has less than 30 page markers tucked in the top. If this book is anything like the first, then it's a godsend for anyone with an interest in pattern illustrations!
4 - Leitmotiv Table Lamp.
This lamp reminds me of the cute pixar lamp, but with a twist. I really like the shape and think it would be perfect for a nice blogging desk set up!
5 - Qualy Squirrel & Acorn Pin Holder.
I just can't get enough of Qualy, and seriously, how precious is this Squirrel & Acorn pin holder set? I don't even need to explain why this is here.
6 - Umbra Casa Tissue Box.
Okay, so maybe I don't buy boxes of tissues now, but I totally would if I owned this box holder. You can find this in white too, but I really like the green version.
What do you think of my picks this time? Is there anything your lusting after?