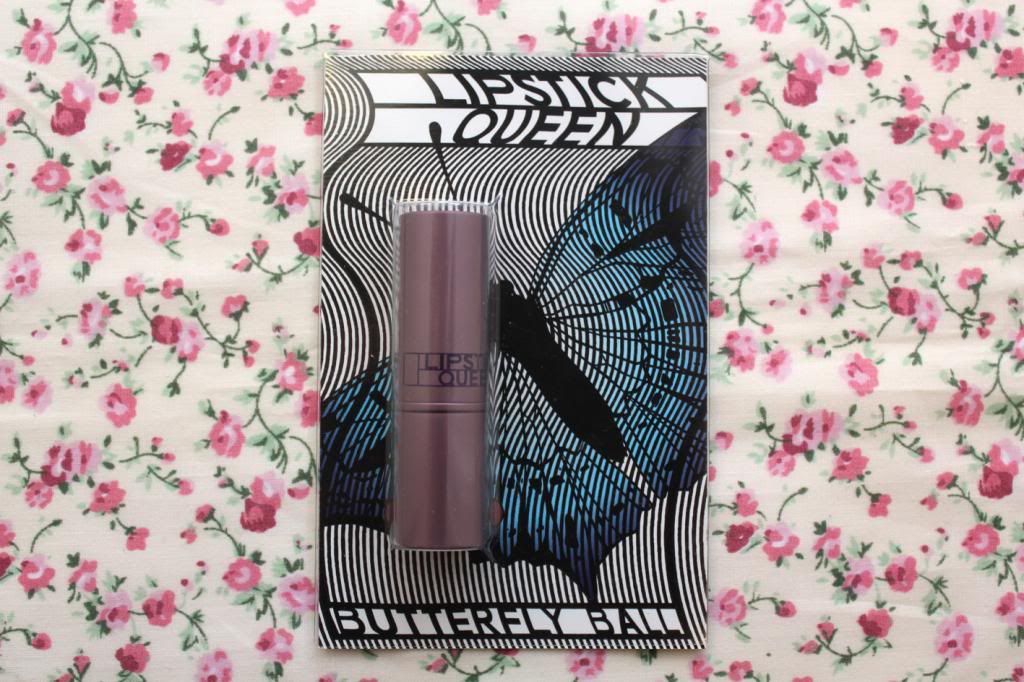 As you can tell, I'm really smitten with Lipstick Queen, the formulas and range of different textures and finishes really stand out for me. Butterfly Ball is created to be like a butterfly, and it's got a lovely description on the back of the packet which reads "Glides on as light and see through as a butterfly wing with a flash of bright turquoise iridescence to disarm and then charm your target (also helps your teeth appear brighter!) Butterflies aren't just pretty, they're intriguing and so are you!".
The shade I have is 'Goodbye', which is the darkest of all the shades and rather scary looking whilst it's in the tube, however it's a sheer lipstick so it doesn't look as dark on as you'd think it would. It's a lovely plum red colour with the iridescent turquoise mentioned above. It's much more noticeable than the Denim Queen lipstick I reviewed previously. I think this lipstick is going to be the first I go for when I'm choosing in the future, I really love the colour and density. Also the tube itself is a lovely satin purple colour, which just looks classy and expensive. You can find this lipstick and more from the
Lipstick Queen
collection on
Beauty Expert
!
I've been won over by the Butterfly Ball range, but what do you think? Would you go for this range?