St Tropez Optimisers & Bronzing Mousse
10:00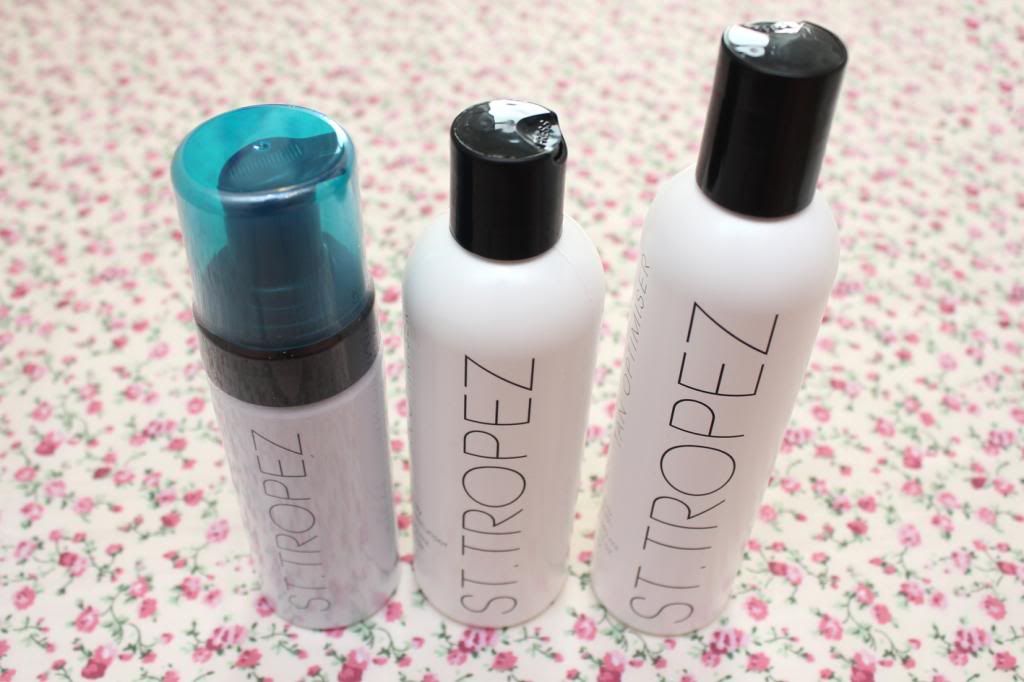 I know I only just reviewed another tan last week, but I'm back with another already! St Tropez is a brand I've heard so much about, but never really got round to trying for no apparent reason, but it's a new year, and a new me, and this year I'm actually going to try all the things I want to try! (Okay, so not all the things, that would be ridiculous, but I'm definitely going to try a huge chunk of new things!).
In general I don't really purchase the before or after products for a tan, it's only on the odd occasion that I do, usually if they're on offer or something, but I do still exfoliate and moisturise before tanning though! However saying that, I have a 4 part set of St Tropez, and it made the whole tanning experience so much better! To begin, I used the body polish which is an exfoliator that is ultra fine in texture rather than being full of big and bulky bits, and because it's fine it means it's really easy to get rid of all your old dead skin cells. It seems to have an iridescent blue shimmer in the light, which I can't think of a reason for it, but it does look pretty!
Next comes the moisturiser which is luxuriously creamy, but not too thick, meaning that it sinks into your skin easily and quickly. I'm really impressed with the polish and moisturiser, they both have an amazing light perfumey fragrance which should be sold as a perfume because it's gorgeous! After I'd used these tan optimisers my skin looked and felt amazing, and I'll definitely be using these as my everyday exfoliator and moisturiser, even if I'm not tanning!
Finally, you're ready to use the bronzing mousse, which is super velvety and easy to apply! I used the mitt to apply, and I would recommend not getting this on your palms! Again, the mousse smells really good, rather than the horrible tan smell that some tans have. The mousse dries really quickly, meaning that you don't have to walk around like something from The Mummy! Also, the mousse has a green tinge, meaning it doesn't result in an orange tan.
I'm really impressed with the St Tropez tan, and I'm pretty sure that this is the tan that I'm going to use for my graduation this summer (fingers crossed). Speaking of which, I've no idea what I'm going to wear so if you want to help me find the perfect graduation or even a classy
prom dress
then please do! I'm looking for something black or royal blue to match the colours of my schools robe! Very have a huge range of
St Tropez
, and they also have a
perfect party tan set
too which I have my eye on!
Phew, that was a long one! What are your thoughts on St Tropez? Do you buy into pre-tan products?